Wee White Bag
Access to free sanitary products in South Ayrshire.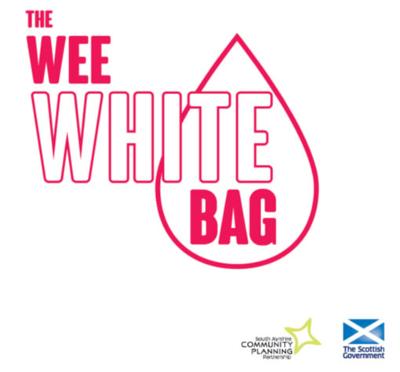 We're supporting the Scottish Government's commitment of aiming to increase the number and range of places where free sanitary products are available. These are available from a range of locations in South Ayrshire including schools, council services and third sector organisations.
Locations
Help yourself to some free products from public accessible toilets, or take a 'wee white bag' which will provide you with a small supply of sanitary products.
All South Ayrshire Libraries and mobile library (a range of reusable products are also available at libraries and the mobile library)
All our activity centres, swimming pools and The Quay Zone
Some Public conveniences
All our community centres, Ayr Town Hall, Maybole Town Hall, Troon Walker and Concert Hall.
Other locations:
Monkton Village Hall
Montgomerie Hall, Dundonald
McCosh Hall, Kirkmichael
Carrick Opportunities, Girvan
Glendoune Association
Carrick Centre, Maybole
Rozelle
McKechnie Institute
South Ayrshire Life
Ayr Job Centre
The Ark
Tsukure (High Street, Ayr)
Ayrshire Women's Hub (Alloway Street, Ayr)
Boots Pharmacy Troon (Academy Street, Troon)
Boots Pharmacy,66-68 Main Street, Prestwick
Newton Primary School Foodbank
Dunlop Newsagents, Girvan
Health Visiting Teams (Barassie Street Clinic, Troon, Ayr North Health Centre and Maybole Health Centre)
Cherry Tree Nursery, Ayr
Goudies, 6-10 Whitehall, Maybole
Prestwick Sailing Club (open on a Wednesday & Thursday evening from 7pm to 9pm from May to October, Saturday & Sunday from 12noon until 4pm April to October and open daily during the school holidays from 10am to 4pm)
Hope Wellbeing Centre, High Street, Ayr (Open Monday 10am to 3pm, Wednesday 10am till 12pm and Friday 10am till 12pm)
Balkenna Tearoom, Turnberry Road, Girvan
​​​​​​​Annbank Village Hall
The Food Pantry @Ayr, The Book & Bun, 50 Newmarket Street, Ayr, KA7 1LR, open: Mon - Fri 10 am - 4 pm (close 12.30 for a 30 min lunch)
The Food Pantry @Maybole, The Carrick Cebtre, Culzean Road, Maybole, KA19 7DE, open: Tuesday 10 am - 12.30 pm and Thursday 10 am - 4 pm
The Food Pantry @Girvan, Girvan Primary School, 7 Wesley Road, Girvan, KA26 9DD, open: Wednesday and Friday 9.30 am - 4pm
PickupMyPeriod App
A new app is now available to access free period products at a number of locations through Scotland. Down the app from Apple store or Play store.
For further information or to become a distribution location please email community.planning@south-ayrshire.gov.uk.